Bogotá, Colombia: Early commitment to safe and active transportation for youth still going strong
Winner of the 2021 Vision Zero for Youth Leadership Award! View the press release.
In the 1990's, Bogotá made a major commitment to fostering a culture of safe, active transportation for children and youth. Over the years, as commitment has grown, the ambitious goal to reach zero road fatalities among youth was added.
Bogotá became the leader in Colombia for working to improve walking and biking safety. The city adopted the Vision Zero focus in the New Century and created the District Road Safety Plan. In 2016, Bogotá became the first South American city to adopt Vision Zero strategies and was part of the group of cities around the world that embraced Vision Zero for Youth, which also strives to reach zero serious injuries and deaths among children and youth caused by traffic crashes. From 2016 to 2019 the city documented a 14 percent reduction in traffic fatalities. When 2020 is included in this analysis, the results show a 36 percent reduction. However, 2020 was an atypical year due to the pandemic. Nicolás Estupiñán (above left), Mobility Secretary of Bogotá for the López administration, in 2021 holding the International Vision Zero for Youth Leadership Award and Juan Pablo Bocarejo (above right), Mobility Secretary for the Peñalosa administration in 2018, after Bogotá became the first Vision Zero for Youth city in South America.
In 2021, along with Addis Ababa, Bogotá received the International Vision Zero for Youth Leadership Award for its long-standing commitment to a culture of safe and active transportation for children and youth. "We are honored to have been granted this award by the Vision Zero for Youth committee. Bogotá is devoted to achieving a zero youth road fatalities target and this is recognition of that effort," said Claudia López, Mayor of Bogotá, Colombia (pictured below)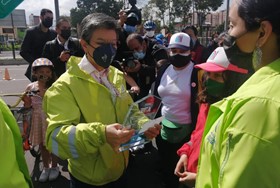 . "We are building a caring city, where citizens' wellbeing is at the heart of every decision, and children are of course a big part of it. If children feel safe on the streets and the city, so will adults. We look forward to sharing this experience with other cities to collectively strengthen our policies towards safe mobility."
This case study focuses on the strategies that have benefited youth in Bogotá so that other cities might benefit from what Bogotá has learned. Key strategies include: sustained political will with safety targets and measured achievements, speed reduction, creation of public spaces, and encouragements to walk and bike.
Sustained political will with safety targets and measured achievements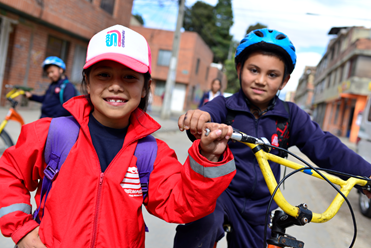 Much of the success in Bogotá has been achieved by each city administration building upon past achievements. The new Administration of Mayor López created goals to keep and expand a trend of reducing general fatalities year by year and reducing fatalities among youth. The specific goals are to reduce by 20% overall fatalities, 5% more than the goal under the previous Peñalosa administration, and to reduce by 20% the number of youth fatalities (teenagers and young adults between 14 and 28 years old). Both goals are to be reached in the four years of the current government (from 2020 to 2024).
Achievements of the past administration include reducing the speed limit on 14 main corridors to 50 kilometers per hour (km/h), a safe limit by World Health Organization standards; increasing speeding and drunk driving surveillance; prioritizing the implementation of school zones signalization benefiting around 3,000 schools and its neighborhoods; and carrying out data analysis at specific sites to modify critical road safety points in the city. In 2018 the death rate per 100 thousand inhabitants was 6.3 percent, its lowest in history and it was still low at 6.7 percent in 2019.
The current administration, like the rest of the world, had to face the challenge of the COVID-19 pandemic and how to keep the numbers decreasing toward zero fatalities. During the lockdown, the streets were emptier than usual causing car users to increase their driving speed and raising the risk of road fatalities. As part of the Speed Management Program, one of the key measures adopted by the past administration was to reduce the speed limit on 14 main corridors to a maximum of 50 km/h inside the city and the current administration extended the speed limit to the entire city. Also, 72 speed cameras were placed at 40 points in the city to monitor speed and provide the information to issue sanctions to offenders. As a result of the Speed Management Program, from May to December 2020, the city reduced the number of deaths on arterial roads saving 92 lives, compared to 2019.
Kids First Program and promotion of safe walking and cycling to school
The Kids First Program was created to address changing youth mobility realities and to increase children's chances of accessing education. In Bogotá, 9 out of 10 children go to school by foot, cycling, on public transport or on school buses. T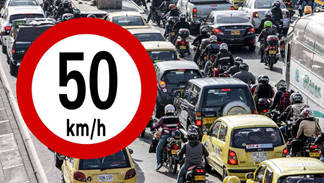 he complexity of Bogotá´s mobility conditions create complicated and difficult travel experiences for these kids, who are exposed to multiple risks. However, their parents do not always have the time or resources to send them or escort them to school in a safe way. These challenges force children to go to school intermittently or to give up studying, widening their socioeconomic gap. The city understood this challenge, and created the Kids First Program to improve the travel experience and promote accessibility to education. Kids First works directly with the student population incorporating and strengthening projects such as: "Ciempiés" (called walking school bus in the US), created in 2017 and "Al Colegio en Bici" or "Bike to School", created in 2013, helping more than 9,000 children from 100 schools to make safer trips to and from school through walking and cycling caravans from 2019 to 2020. Both projects are developed in partnership between the Education and Mobility Secretariats
When schools closed because of the Covid-19 pandemic, children, as in many other places around the globe, shifted to virtual classes. The Kids First Program and the Education and Mobility Secretariats took this as an opportunity to transform the service of escorting trips to school to one of providing virtual spaces for children to play while staying at home during the lockdown. After September, the online activities were modified for some in-person time to do physical activity outdoors, benefiting more than 2,900 children in 2020. To make this happen, the Ciempiés and Bike to School projects took groups of 6 to 10 students to the nearest public space to play, talk about self care, road safety and do other recreational activities, while respecting the social distancing protocols.   
Changes to infrastructure to decrease speed in school zones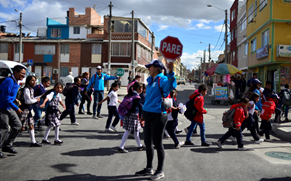 Speed reduction is a key component of the Vision Zero and the Kids First Program and it is part of the School Zones project. School Zones create safe school surroundings for children, their families, schools and the overall community, to prevent road traffic crashes caused by vehicles travelling at high speeds. When the speed is reduced, it is possible to reduce human mistakes and drivers have more reaction time in case something unexpected happens on the streets.  To make this possible, the District Mobility adjusts the designs of the nearest streets to schools, according to the context and vulnerability of road users. The adjustments include vertical and horizontal signaling, segregation elements, speed reduction bumps and other objects, bike lanes as well as tactical urbanism (also known as temporary infrastructure improvements or pop-up demonstrations). The objective is that vehicles that travel through school zones do so at 30 km/h or less, to keep safe conditions for pedestrians, cyclists and other vulnerable users.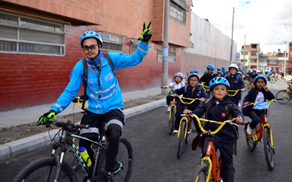 Within the School Zones project, the city has the goal of implementing 5,000 traffic calming measures, 12,000 pedestrian crosses and intervening at 800 schools. From 2020, the District Mobility is working in 2,200 additional School Zones and in 330 schools surroundings, to achieve the compliance of the 30 km/h limit. These improvements began with the previous administration and continue to be executed as part of an effort to sustain the measures.
Creating public spaces to encourage all ages to walk.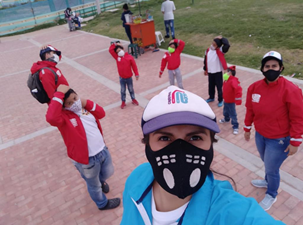 Changes in infrastructure through tactical urbanism interventions (also known as temporary infrastructure improvements or pop-up demonstrations) around the city have proven successful. The process involves understanding communities' needs and thoughts, and the ideas to improve social interactions through urban measures according to the different contexts of the city.     
Another of the emblematic projects in charge of these interventions is called "Plazoletas Bogotá" (Bogotá public squares) which is now part of a portfolio of bigger public space development projects including "Green Corridors", "Vital neighborhoods", among others that stand for Lopez administration's idea of a 30 minutes city, where the inhabitants can live and work within a 30-minute radius. Through this project, the Secretary of Mobility aims to recover, transform and create public spaces along the city that previously gave priority to vehicles, prioritizing and promoting walkability through fast and low-cost interventions. The target is the reconfiguration and reordering of road spaces that present multiple mobility problems and are located in urban contexts with high demand of pedestrians, cyclists, and other vulnerable users.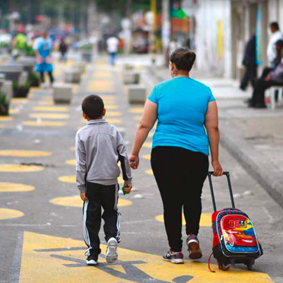 These actions transformed the streets based on the principles of Vision Zero, promoting road safety as a central axis to guarantee new meeting points, activity, enjoyment for the communities and safe mobility. In this way, Bogotá promotes better use and appropriation of the streets, for adults and children, who have also been engaged in the design process, taking into account that streets make up the largest continuous system of public space in the city. Some of the achievements that Plazoletas Bogotá reached by 2019 were: 17,000 square meters intervened on the roads for pedestrian circulation; the spaces intervened benefited an average of 92,000 pedestrians per day; the interventions are located in 11 neighborhoods of the city, in 8 of the 20 localities; and they achieved 79% of approval from the communities benefited by these measures.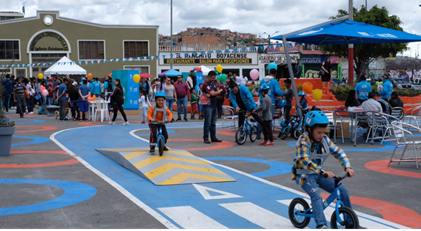 Innovative initiatives during the pandemic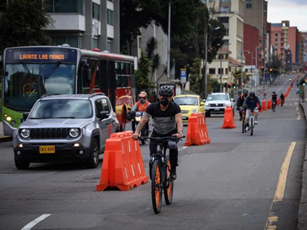 As part of Bogotá´s response to Covid-19 challenges, from March 2020, the city captured global attention when it created an additional 84 km of provisional bike lanes, to expand the 550 km biking network, to help essential workers get around during the crisis and reduce the use of public transportation, preventing passenger agglomeration. These 84 km were a big change for the city as they adapted vehicle space to bike lanes on some of the most relevant avenues. The success has been such that the administration is making 28 km of these lanes permanent which is triggering other infrastructure improvements. Some of the remaining km are still temporary and under consideration for permanent adoption. This is a huge boost to cycling in Bogotá, giving cyclists more space and safety on their ride.
Three of these main corridors, Carrera 7, Carrera 9 and Calle 13 (pictured above), have seen a massive increase of bike use by 530%, 520% and 370% respectively. The Calle 13 corridor is one of the most complex roads in the city, due to risky interactions between vulnerable users, public and freight transport. Thanks to the temporary bike lane pilot, in 2021 this corridor has been permanently transformed into a space to protect pedestrians and bike users, who in the past had to share the road with heavy vehicles, increasing their vulnerability. The Calle 13 bike lane is now a safe connection for commuters that travel west. Below are before and after photos of the transformation of segments of the Calle 13 corridor.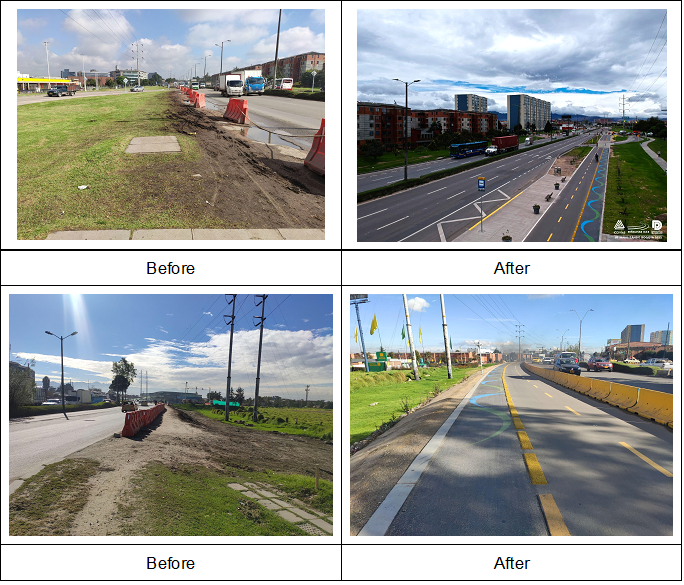 With the development of the Calle 13 project, fatalities have been reduced by 75%, when comparing the numbers of 2019 and 2020 with 2021. Since the construction of the lane, cyclist fatalities have been 0 for 2021, compared to the average of 1.7 fatalities for previous years, in the same segment of the corridor.
Additionally, to benefit the economic reactivation of stores and restaurants and to comply with social distancing restrictions, the city created the program "Bogotá, at Open Sky" to use part of the space of sidewalks, squares, parks and roads, to increase public space.
Conclusion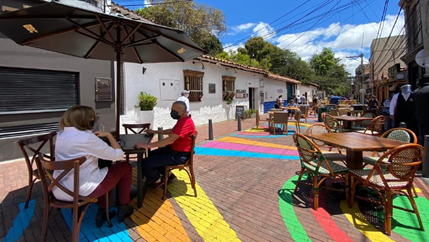 While much of Bogotá's focus on safe mobility took hold in the 1990's, the transformation began in 1974 when the city decided to close some of its main roads on Sundays for its inhabitants to walk and bike around. Since then, the city has been working to improve its traffic and public space, and has seen several major transformations: the opening of Transmilenio and the beginning of the construction of large urban bike paths in the late 1990s to the most recent speed limit reduction to 50 km/h and major traffic calming measures across the city. These measures create an environment for youth specific projects such as Kids First, in which the city takes care of its more precious population, and in doing so gives all of its surroundings a nd communities better public spaces and mobility alternatives. Looking inside at the most vulnerable population—kids, elders and their caretakers–the city can be sure that it's efforts will benefit the overall population.
As a pioneer city in road safety, Bogotá has worked through several action points laid out in Zero Vision, such as infrastructure, surveillance, demand management and private vehicle restrictions, and communications. While Bogotá has faced many challenges making these effective, there seems to be a turning point now that the kids from the 1990s have become the main adult population and demand better, greener and safer mobility of its political leaders. So as the city continues to invest and to take care of its younger population, bigger transformations will be easier, but still challenging.